Rennsport Motor Works was founded in 1981 by Sal Puleio, and has been happily serving imported car owners ever since.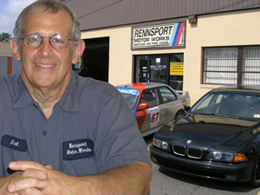 Credentials:
ASE certified technicians
TST membership
Working on import cars since 1972
Formula Vee & Formula Ford work
Preparation for BMW Club Series
Prep. for SCCA Improved Touring
Bergen County Tech Schools Advisory Council
Chief Judge at a car show
BMW Club Member
What does "Rennsport" mean? It's "Racing Sport" in German. And in the sport of racing, besides driver skill, nothing is more critical than precision and excellence in vehicle preparation and maintenance. There is no room for shortcuts or compromise. Technicians must be best-in-class with exceptional training and commitment. Only the best tools and products are acceptable.
Not every Rennsport customer is a professional driver with a racing vehicle. In fact, many are simply enthusiasts, probably like you, who take great pride in the Import vehicle they've owned for a long time or recently acquired from a previous owner.  Others are just owners of high quality vehicles that want to make sure they receive the highest level of service.  Maybe you have a Vintage vehicle and are considering restoration, or perhaps you need us to build, maintain or upgrade a racing vehicle. In all cases we take the same approach; Precise, excellent service- without compromise – using only the best technicians and materials – to provide quality and value.
We are ASE certified master technicians, members of Technicians Service Training (TST), BMW Club members and driving instructors. Our 5,000 sq. ft. facility has two lifts. We have a dedicated staff of technicians who speak and work directly with customers so you know who is responsible for your vehicle. We're conveniently located in the New York metropolitan area just minutes off major highways.
Here at Rennsport Motor Works, we have a simple yet powerful guiding principle: Care for customers with honesty and integrity; Earn trust through consistent quality and value; Respect and develop employees; and Give back to the local community. These principles have remained unchanged since we opened our doors thirty years ago.